"Technology will not replace great teachers, but technology in the hands of great teachers can be transformational" – George Couros
Adult educators usually rely on self-initiative when it comes to blended learning in their teaching. With the transformation accelerated/encouraged by COVID-19, blended learning has become a reality for teachers.
The project is developing two main results:
A collection of blended learning case studies
A train-the-trainer course for adult educators to become "blended learning champions''
Between 29 and 31 May, a teacher training activity was organised in Piraeus, Greece with 20 participants from all the partner countries (Slovenia, Ireland, Cyprus, Spain, and Greece). The participants were adult educators/trainers/teachers with different backgrounds and expertise such as English teachers, Computer Science, Biology, Slovenian teachers etc.
The main aim of the training was to share the case studies developed in the project and for trainers to improve their digital competences to design blended learning courses as well as gain knowledge about how to train their fellow teachers to become blended learning champions.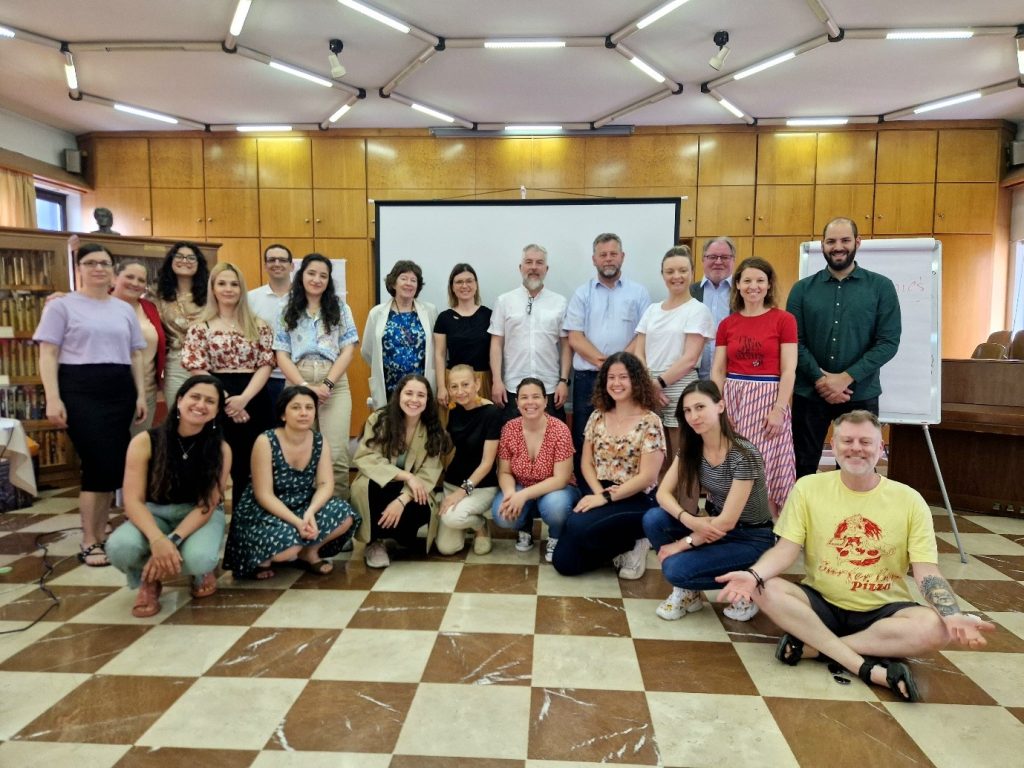 On the first day of the training standing yoga as energizer was organised by the partners, then an introductive session was presented to all participants by the coordinator with an overview of the training, its aims and expected results. The introduction was followed by a session on the use and importance of icebreaker and energizer activities in blended teaching. A handbook containing different icebreaker and energizer activities was also presented and one of them, a, a 'Candy game', was used for the participants to get to know each other, share their expertise, and training expectations.
In the third session, participants experienced a design thinking personas workshop in which they discussed the needs of students in blended learning process.
On the second day of the training, a presentation of the re-design blended teaching resources was presented with the results which were already developed during the project. A workshop followed where participants shared their case studies and experience from the blended teaching procedure.
Additionally, a board game based on the teachers' case studies and developed for the needs of the training was tested. It is an amazing and interesting result to help teachers in their blended teaching process.
On the third day of the training, a session was given to participants to identify the main problems/challenges during their blended teaching procedure and search for alternative solutions based on their knowledge/expertise.
Lastly, a final presentation was delivered by the partner responsible for the train-the-trainer course on how the teachers (participants) can teach other teachers/adult educators/trainers the blended learning methodology. This presentation included guidelines, tips, methodology, and terminology regarding blended teaching, case studies, etc.