Six European educational institutes have come together to explore the development of a workbook to help adult educators incorporate blended activities into their teaching process.
To develop this workbook, representatives from each of the European institutes attended a two-day workshop where a range of critical thinking and problem-solving techniques were employed to develop the table of contents (and some preliminary content) of the workbook.
Four techniques were used for the workshop:
First focusing on an overview of the topic of Blended Learning,
Second concentrating on the details of that topic,
Third was designed to bring the discussion back to a higher-level overview,
The final one to dive into the details and questions again. 
 This pattern of Overview-Detail-Overview-Detail was designed to ensure that the topic was fully explored.
The partners spent 30-45 minutes on each of the techniques, followed by a 30-45 minute general discussion on the outcomes of the activity. Using an exploratory qualitative study approach, where the focus was on the number of unique ideas that each technique generated, the following results were found for each technique:
Triadic Elicitation (51 unique ideas),
Ishikawa Diagram (34 unique ideas),
PESTLE (13 unique ideas),
MindMap Activity (26 unique ideas).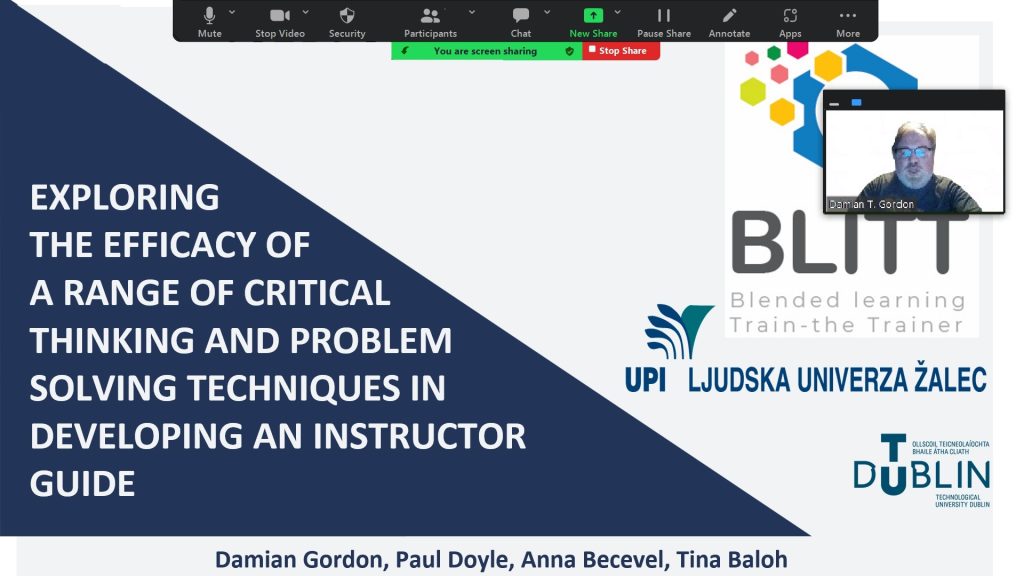 Gordon, D., Doyle, P., Becevel, A., Baloh, T. (2022) "Exploring the Efficacy of a Range of Critical Thinking and Problem Solving Techniques In Developing an Instructor Guide", 15th Annual International Conference of Education, Research and Innovation (ICERI), 7th-9th November, 2022, Seville, Spain.
Keywords: Blended Learning, Ishikawa diagrams, PESTLE Analysis, MindMaps.